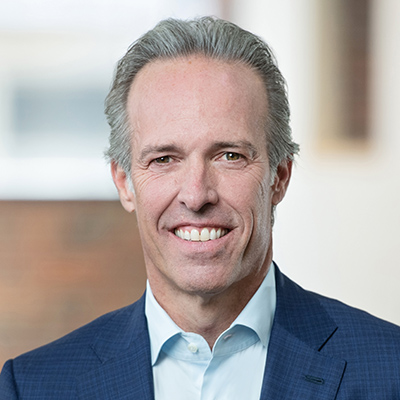 Marshall M. Burton
Chief Executive Officer
With 25 years and billions of dollars in development experience, Marshall Burton co-founded and now serves as the Chief Executive Officer of Confluent Development. The full-service real estate investment and development firm features unmatched talent executing across a diverse portfolio of industrial, office, retail, mixed-use and senior housing development projects, all under one roof. Through Marshall's leadership, the company's footprint spans more than 100 projects and 10 million square feet of development in 22 states.
As CEO, Marshall guides the Confluent Development team's success in all phases of real estate development, delivering custom and complex projects that add lasting impact to their respective communities. True to the Confluent name, the philosophy of unification is central to Marshall's leadership of the firm. The company fuses its best-in-class team and stakeholders to create real estate solutions for communities to innovate, grow and inspire.
Marshall has a strong record serving on boards for successful industrial REITs. He is currently a full-cycle events director of Black Creek Industrial REIT IV (BCI IV), an industrial REIT focused primarily on high-quality distribution warehouses with more than $1.2 billion under management. He was previously a board member for Industrial Property Trust (IPT) and Industrial Income Trust (IIT), helping to steer the industrial REITs through the full cycle of their portfolios. IPT successfully sold its portfolio featuring 37.5 million square feet of industrial space for approximately $4 billion in 2020, and IIT completed its sale for more than $4 billion in 2015.
Prior to founding Confluent Development, Marshall was the executive vice president for Opus Development Company, where he led operations in the western region and oversaw the growth of its Denver office.
Giving Back in Business and Community
Marshall's commitment to community began early in his career, when he served as an associate director for the Downtown Denver Partnership. Here, he co-founded Denver Capital Corporation, a multi-bank community lending organization.
Marshall has carried forward this spirit of community investment throughout his career. Currently, he serves on the Children's Hospital Colorado Foundation's Corporate Leadership Council (CLC), helping to advance Children's Hospital Colorado's mission through philanthropy and special event fundraising. Marshall is also a member of Colorado Concern, an alliance of the state's leading executives committed to enhancing Colorado's business climate. Within the industry, Marshall previously served as president of NAIOP Colorado and as an active member of Urban Land Institute. Based on Marshall's visionary leadership and commitment to community investment, the Denver Business Journal awarded him as a Most Admired CEO in 2020.